Devouter Records is proud to release its very first album this week. MAKE's crushing debut album 'Trephine' is available on Heavy Weight White/Grey Speckled 12" Vinyl.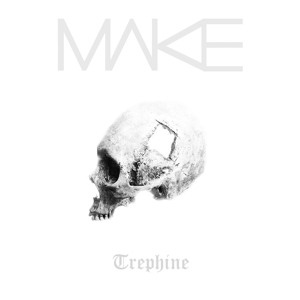 To celebrate the release we are giving away the track '...And Time Came Undone' here:
http://www.devouterrecords.co.uk/Music/ ... Undone.mp3
Stream the full album here
http://soundcloud.com/devouter-records/ ... -trephine/
Buy the album here
http://devouterrecords.bigcartel.com/
Thanks,
Phil
MAKE – 'Trephine'
MAKE on Facebook:
http://www.facebook.com/thebandmake
MAKE on Twitter:
https://twitter.com/thebandmake
THE LOWDOWN
With themes covering the concept of mortality, the infinity of death and the fragility of life, 'Trephine' is an assured debut that firmly stamps MAKE's mark on the post-metal map.
After the death of a peer, MAKE guitarist Scott Endres (who also played on Horseback's 'The Invisible Mountain' record) took to writing a concept album about a hospital resident regressing into a fantasy state after a psychological breakdown. This fantasy state is represented by a post-apocalyptic world, while the journey the protagonist embarks upon is hopefully the means to an end; his or her own personal trepanning.
With touring plans and festival slots in the pipeline, 2012 looks set to be an incredible year for MAKE as they rapidly establish themselves as one of the best bands to come out of North Carolina in years.
ABOUT: MAKE are Scott Endres (guitar, vocals), Spencer Lee (bass, vocals) and Matt Stevenson (drums).
Devouter Records: Is a UK based label specialising in Doom, Stoner, Psychedelic and Sludge rock.
http://www.devouterrecords.co.uk
http://devouterrecords.bigcartel.com/
https://twitter.com/#!/DevouterRecords
http://www.facebook.com/pages/Devouter- ... 3912383246