This is gonna be a long TL;DR blog beer post. Had a big couple of weeks.
Finally got onto a couple of US IPA's.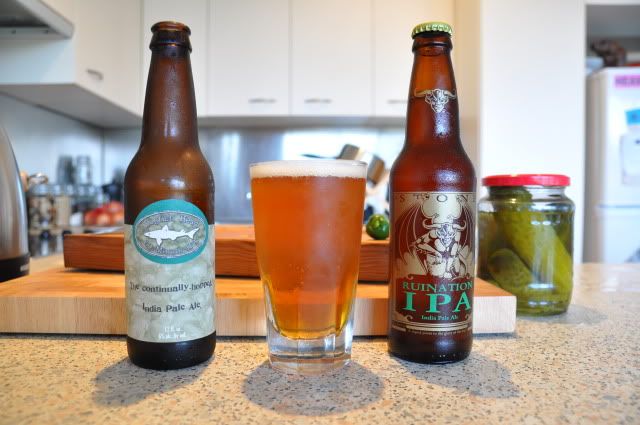 Firstly, this stuff is hugely expensive out here. A 6 of each ended up costing me 65 bucks! Fuckin' hell!
The dogfishhead 60 minute is very nice! Citrussy and herbaceous, hoppy but not over the top, probably comprable to some of the local IPA's in terms of IBU's but with more citrus than the Jame's Squire's offering which uses Fuggles Hops. I like it.
The Stone Ruination is pretty stupid. I can drink it, because that is what I'm into, but everyone I offered a taster to turned their noses up at it after a sip. I guess it's like chiles. You get into the idea of going hotter and hotter and it just becomes a machismo thing. I've since found out I have a mate who lives around the corner from the brewery in Escondido and knows the Brewmaster, so I'm hoping to do some beer trading soon, probably swap some hi-po Aussie rum for some Double Bastard.
The night after, we had dinner here:
http://josiebones.wordpress.com/
You just know you're gonna have a great night when the door handles are bronze pig trotters!
Their beer list goes to something like 40 pages and initially me and my Bro went in for a drink at about 4pm while our partners were off doing girly things, like shopping, and apparently scofing wine at some pub!
Initially we got stuck into more IPA's
Jamieson Beast (Aus, Victoria)
Red Duck Bengal (Aus, Victoria)
Rogue Yellow Snow (USA)
All very similar, all about 70 IBU. Not ridiculous, none terribly memorable apart from the Jamison Beast, which has changed since I last had it about a year ago, and is now hoppy enough to be balanced. All were good!
With Dinner;
Renaissance Paradox Blonde (NZ)
Tall Poppy India Red Ale
Weihenstephaner Korbinian Doppelbock (Germany)
Holgate "The Empress" Porter (Aus, Victoria)
Mikkeller Nogne 0 Tyttebaer (Norway)
I can't remember much about the matchings, but I did have presence of mind to make notes on the beer!
The Renaissance Paradox featured the NZ hop variety "Riwaka" This is similar to the Nelson Sauvin, but possibly less intensely citrus/passionfruity. I found it a bit underhopped, but that is probably because of the IPA's I'd been drinking beforehand. Good summer arvo session beer.
The TP India Red Ale seems to be an American style IPA brewed with some sort of Crystal Malt. By this stage I was IPA's out and a little bored by this, which is probably underselling it.
I won't say much about the Doppelbock, other than the waiter described it as a light porter, and forced a taster of it on our girlfriends who had joined us by this stage. They said they liked it, but wouldn't order more!
Holgate's Empress. Limited release brewed with Vanilla Bean and Chocolate. Fucking fantastic. A perfect match with the chocolate deserts. The girls also liked this a lot. Only offered in 110ml tasters because they could only get a single keg of it.
Mikkeller Nogne 0 Tyttebaer. A Sour Lambic brewed with Lingon berries. Good match with the fruit desert. Again fucking fantastic. I'm not a massive fan of sours and fruit beers, but this shit has made me want to explore more. I actually had a dream about this beer the other night, it ws that good!
Thanks for reading that crap (if you did) and if you ever get to Melbourne, check out Josie Bones! My best night out at a restaurant in literally years.