HDR NEWSLETTER: July 5, 2012
Hypnotic Dirge's newest releases, Epitimia - Faces of Insanity, and Silent Path - Mourner Portraits are now both available to pre-order. If you pre-order one (or both) of these releases, you will also receive a digital version of the album (in your choice of .wav or Mp3 format, and complete with album art) to listen to until the CD arrives in the mail. Digital downloads of both new releases are also available from HDR's BANDCAMP page for $5.00 each and both albums are also streaming for free in their entirety.
The philosophy of Hypnotic Dirge Records is that music is art, and as such, it deserves to be free - at the very least in terms of providing the artist's work in a complete and uninterrupted stream of an album so that it can be listened to in full, and not just select promo tracks. In the past, my personal philosophy on this matter, and the way that Hypnotic Dirge was set up did not really coincide. This new approach of providing free streaming, $5 downloads, and $10 (plus shipping) CD releases will be the new standard for all future HDR albums from now on, and should be especially useful in being able to stream the entire album in full before deciding whether you would like to buy the CD version, download only, or neither.
HDR - 023: Epitimia - Faces of Insanity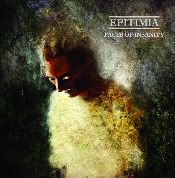 A three-piece atmospheric Black Metal, post-rock band from Saint-Petersburg, Russia, Epitimia's 'Faces of Insanity' album is the band's third full-length album and the first on Hypnotic Dirge Records. Combining an intriguing blend of atmospheric post-rock,and depressive black metal, this is a truly well-written, unique and innovative album which definitely sees a strong progression from past Epitimia albums - To the non-exisiting shades, and Four Truths of the Noble Ones, with the new experimental elements. Throughout the album, the songwriting shows a band with a strong capability for providing heavy doom, experimental ambience, raw black metal catchiness, and a deep melancholy which plods along with purpose throughout the album's duration added onto by a cacophonous wall of harsh vocals courtesy of vocalist, K. and occasional female vocals from M. Overall, this is definitely a powerful and memorable album which should be enjoyed by all those who enjoy experimental, post-rock laden black metal, especially the stuff coming out of the european european and russian scenes lately. The album comes with an 8 page booklet with Russian lyrics.
More info/Buy CD:
http://www.hypnoticdirgerecords.com/epi ... -tobuy.php
Free streaming/Digital Download:
http://hypnoticdirgerecords.bandcamp.co ... f-insanity
HDR - 024 : Silent Path - Mourner Portraits
Silent Path is another musical project from Saman Nu, the musician from Tehran, Iran behind the atmospheric Black Metal project, Ekove Efrits. While with Ekove Efrits, Saman creates a rich and textured atmospheric sound which is filled with soaring melodies, doom-laden ambience, and deep melancholy, Silent Path however is a completely different beast altogether. The sound is grittier, darker, and much less optimistic and brings together elements of down-tempo depressive black metal, funeral doom, and ambience. with a strong emphasis on soaring melancholic riffs. This album is a bleak hour-long journey into the depravity that humanity is capable of, and should appeal to all fans of depressive black metal, in particular those who enjoy Exiled From Light, and Ekove Efrits. This album was originally completed in 2009 and now finally gets an official release, complete with a 16 page booklet including lyrics, notes, and more.
More info/Buy CD:
http://www.hypnoticdirgerecords.com/sil ... -tobuy.php
Free streaming/Digital Download:
http://hypnoticdirgerecords.bandcamp.co ... -portraits
_______________________________________________________________
Prices:
Streaming - Free
Download - $5 (in your choice of format, and including album art)
CD - $10 plus shipping (including immediate download while you wait for your CD to arrive )
Both CD's - $25 (shipping included, as well as immediate download while you wait for your CD's to arrive)
Thanks for supporting Hypnotic Dirge, and of course the artists on the label. As always, all sales will go towards upcoming releases and merch including the new netra, and Subterranean Disposition CD's, a very special stroszek deluxe 3CD, new shirts from netra, and Ekove Efrits, and more if possible!!
As an extra sidenote, I'm currently in the process of uploading some past Hypnotic Dirge releases in full on the bandcamp page for free streaming and $5 downloads.
You can visit our bandcamp page here:
http://hypnoticdirgerecords.bandcamp.com